Oil painting is the process of painting with pigments with a medium of drying oil as the binder. Commonly used drying oils include linseed oil, poppy seed oil, walnut oil, and safflower oil. The choice of oil imparts a range of properties to the oil paint, such as the amount of yellowing or drying time. Certain differences, depending on the oil, are also visible in the sheen of the paints. An artist might use several different oils in the same painting depending on specific pigments and effects desired. The paints themselves also develop a particular consistency depending on the medium. The oil may be boiled with a resin, such as pine resin or frankincense, to create a varnish prized for its body and gloss.
Chinese Water Color Painting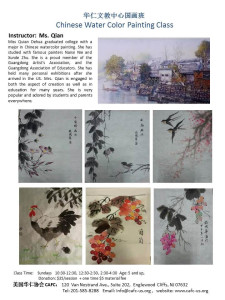 Traditional Chinese water colors are mineral and vegetable pigments, premixed with some kind of binder, mostly animal glue. They are used in the same way as the Western watercolors by adding some water and after painting they fix perfectly on the rice paper. The main feature of genuine Chinese watercolor painting is its luminosity and transparency and that's what vegetable and mineral pigments are all about. The purer the pigments, the more subtle their tones and brilliance will be. The quality of the pigment is also affected by the glue used, its origin and color.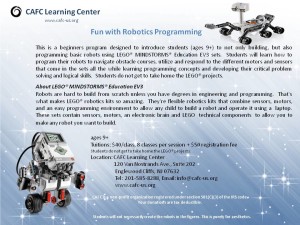 This is a beginners program designed to introduce students (ages 9+) to not only building, but also programming basic robots using LEGO® MINDSTORMS® Education EV3 sets.  Students will learn how to program their robots to navigate obstacle courses, utilize and respond to the different motors and sensors that come in the sets all the while learning programming concepts and developing their critical problem solving and logical skills.  Students do not get to take home the LEGO® projects.
Feature Business Aspirants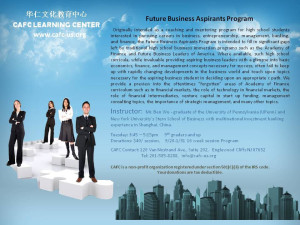 Originally intended as a coaching and mentoring program for high school students interested in pursuing careers in business, entrepreneurship, management, banking, and finance, the Future Business Aspirants Program is intended to fill in significant gaps left by traditional high school business immersion programs such as the Academy of Finance and Future Business Leaders of America. Where available, such high school curricula, while invaluable providing aspiring business leaders with a glimpse into basic economics, finance, and management concepts necessary for success, often fail to keep up with rapidly changing developments in the business world and touch upon topics necessary for the aspiring business student in deciding upon an appropriate c path. We provide a preview into the oftentimes "forgotten" areas of Academy of Finance curriculum such as in financial markets, the role of technology in financial markets, the role of financial intermediaries, venture capital in start up funding, management consulting topics, the importance of strategic management, and many other topics.