Full Conclusion of the 3rd Annual "Golden Peony" International Music Festival of 2015
In the evening of 4 August 2015, the 3rd Annual "Golden Peony" International Music Festival of 2015 came to its full and round conclusion at the Fair Lawn Old Library Theatre in New Jersey. This is the 3rd such annual music festival organized by the Chinese American Families Coalition (CAFC).
Famous musicians and artists like tenor JinHo Hwang, music saw performer Liming Chen, guzheng performers Yang Yang, Jing Lu participated in the festival. They worked together with prize winners of the music competition, and produced a wonderful concert. Beautiful Chinese classic music pieces such as Water from the High Mountain, Deep Peaceful Night, Pink Lotus, had left the audience with unforgettable memory.  What a joyful summer night!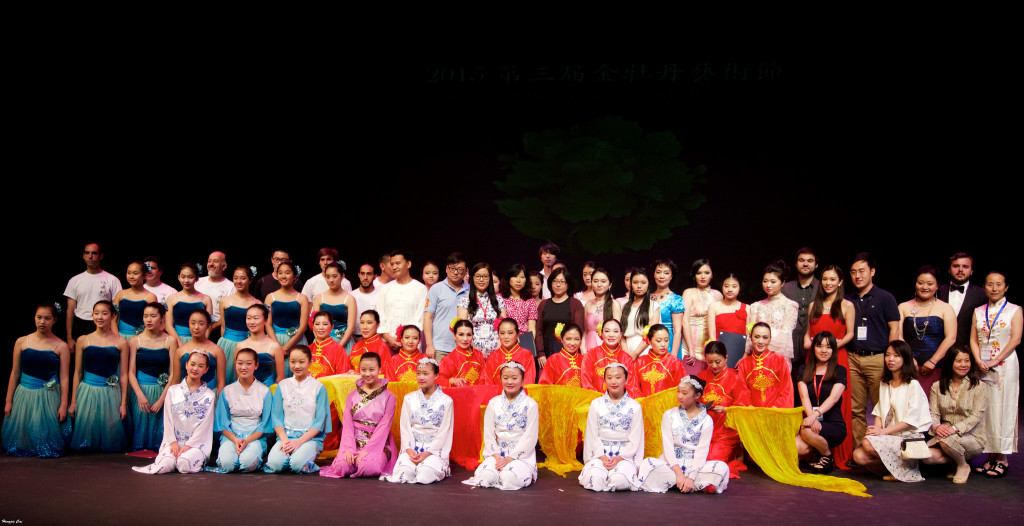 This 3rd annual music festival was actually composed of 3 parts: "Golden Peony" International Music Competition (2-4 August), "Golden Peony" Gala (3 August evening) and Musician Judges' Concert (4 August evening). The sole aim of the festival is to raise the publicity of classic Chinese music, to promote the music and art exchange between China and the US, and to select and reward young Chinese and American artists.
There were more than 70 young musicians and singers participated in the competition. They all enjoyed this opportunity to learn about each other and they had made new friends.
The event received strong support from Bergen County and the municipal government of Fair Lawn. Representatives from bothhighly acknowledged CAFC for promoting Chinese cultures in these ten years. They also praised the participating artists.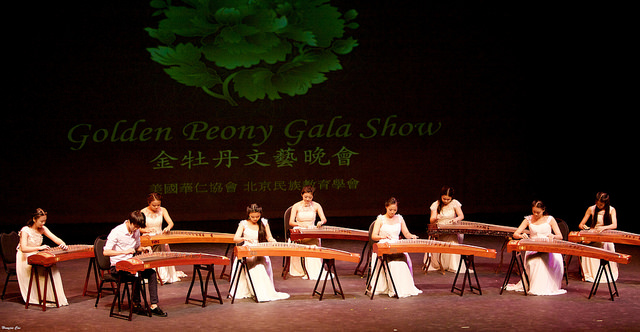 The "Golden Peony" Music Competition was mainly centered on traditional Chinese music instruments, but also includedwestern music instruments and vocal performances. It had provided the artists with an excellent platform to demonstrate their skills and talents, and also a unique chance to compete and exchange. This is also a good opportunity to get the comments from famous performers and teachers. Hongmei Yu, a famous erhu performer was the honor chair of the judges committee, and Meng Li, famous guzheng performer, worked as the chairperson of the judges committee. The judges committee was formed by teachers and artists from China Central Conservatory of Music, Sichuan Conservatory of Music, Minzu University of China, Xi'An Conservatory of Music, thus pushing the competition onto an international top level.
Music crosses all national boundaries. Anthony Pocetti, music teacher at CAFC Learning Center and also judge of the competition, gave high comments to the participants of the western music instruments. In the meanwhile, he was amazed of the charm of Chinese instruments and the glamour of the performances.
Angie Wei, Executive Chairperson of CAFC expressed that the association will continue to organize and sponsor a series of such events and activities of China-US cultural and education exchange. She hopes more people will join her and support such efforts.
CAFC is a Federal registered non-profit organization under 501(c) 3. It was established in 2006. It serves the local community charity activities by promoting Chinese culture, music, arts and education, as a unique bridge between China and USA the two great nations.